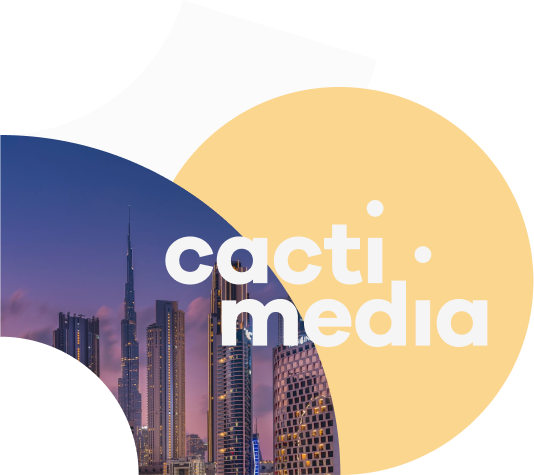 At Cactimedia, we give special attention to the web design process and make sure that we build a digital strategy that brings out the best design for our clients.
We have a team of coding experts and designers that help create a bespoke website design that is always a step above the ordinary. Our professional team will bring out the best version of the website you have in mind and we always strive to excel in a web design that will engage your customers and bring about the maximum conversions. We will ensure that the website we design for you will be personalized and have the best load speed so that it is search engine friendly. We are experts in projects that range from Corporate Web Design, Custom Web Design, WordPress Websites, E-Commerce Websites, and Online Portals
The clients that we serve are in every niche of business ranging from SMEs to Government entities. Each website that we have designed over the years in the UAE are custom built taking into consideration the exact requirements of our clients. There are many points to take into consideration before building the perfect site, and our team knows exactly how to go ahead with the process. No two website design projects in Dubai are the same, and we take pride in developing a website that is one of a kind, every time.
So if you are looking for a beautifully designed website that's in-line with the latest trends across the world then you have come to the right place. We will carefully analyze your niche, your audience and the type of website you want and need (this can be anything between a full-blown website to a little microsite) and will come up with web design concepts that truly differentiate you from the rest.
let's create great website together.
We are passionate about our clients and their products let's talk.
#1 Web Design Agency in Dubai.The Perfect Web Design
Delivered Every Time!
The main point that we have to consider is to bring out the vision that our clients have for their website, and by using the right Content Management Systems, and employing SEO-friendly web development, our clients will get the maximum exposure and engagement that they need for the site. Even after building the website to the exact requirements of our clients, we will be available to them to change or improve on the design along with providing maintenance as and when necessary. The most important aspect of our work process is to continuously provide web design Dubai services that wow our customers.
Services that we offer

Corporate Web Design
A corporate website is the ideal way to promote your company online. It lets people understand who you are and what your company stands for – 24/7. That means your corporate website promotes your business, even when you're not.
Our team of expert developers can build a corporate website that does more than run your organization. We create professionally-designed sites that build the right image about your company, improve its credibility, and help gain the trust of everyone who uses it, from customers to potential employees to investors. And that means you have the power to establish a better online image and boost the financial growth of your company.

WordPress Web Design
Over a quarter of the world's websites run in WordPress. And for good reason. The platform has thousands of plugins that allow you to add incredible features to your site and extend its core functionality.
So if you're planning to create a WordPress website, we can help design and develop the perfect one for your business. Our WordPress web design experts are experienced and creative. We know how to build unique sites effectively, no matter how large or small your business may be. Our prime focus is on creating a custom WordPress site that's easy to use and flexible for growth.

eCommerce Web Design
An online store is a cheaper option than running and maintaining a brick-and-mortar store in this digital era.
This is where we come in.
Our team of expert developers can create customized ecommerce web design and development solutions that are perfect for your brand. Now you can sell more items, reach more customers, and expand your business effortlessly.
It's time to power up your business offerings and redefine the online shopping experience with our services. We're familiar with popular ecommerce platforms such as Shopify, Magento, WooCommerce, BigCommerce, Drupal, and more. Simply pick the ecommerce platform that's best for you and let us work our magic.

Branding Web Design
You know a well-designed website can help your brand stand out in the crowd. But besides looking beautiful and offering a user-friendly online experience, you want your site to always be on top of your customers' minds.
And we know just how to do that!
Our web development team excels when it comes to design and branding. We know how to make your site memorable. This entails defining brand guidelines, refining various aspects of your brand identity, and keeping all design elements consistent throughout, from colors to graphics, tone to aesthetics, and beyond.
It's time you took your online identity to the next level.

Personal Web Design
If you're looking for a way to showcase your talent and market it online, you need a personal website.
We can build a personal website that effortlessly communicates your skills to your target audience and promotes your work. We'll ensure your presence gets recognized by everyone so you can grow your network.
But our professionally designed personal website can do more than create a long list of raving subscribers and fans. Our website design specialists know how to build a creative and attractive customized personal website that reflects your personality and makes you look more professional.
So let's start to build something awesome together today.

Microsite Design for Brands
If you're thinking about simple and effective ways to enhance your current marketing strategies, double up advertising efforts, and boost sales, we've got the perfect solution – microsites.
A microsite is a great way to market a single limited-time product or offering from your brand.
Our microsite web experts can design and build microsites dedicated to promoting a particular item, service, event, etc. We'll create a refreshing way for you to connect with a specific niche of your target audience. That means we'll help you maximize engagement and direct more visitors towards conversions.
It's time you embraced this innovative marketing technique too.
Design websites that perform better
We know you want only the best for your business. That's why you came to us. So what factors do we keep in mind when working on website development in Dubai?
User Experience & UI/UX Optimization
We know the secret to transforming website visitors into loyal customers lies in a seamless user experience. Our design experts follow a well-thought-out web design process to ensure your website operates flawlessly while staying aesthetically appealing. We aim to optimize designs and UI/UX by focusing on website structure, functionality, usability, and more.
Content Management Systems
If you don't have much HTML knowledge but plan to manage your website's content yourself, we can design a CMS website for you. We're familiar with several popular CMS platforms, such as WordPress, Sitecore, Drupal, Joomla, etc. Now you or any developer can edit web design and content in the future.
Accelerated Mobile Pages (AMP)
Future digital trends will revolve around mobile devices, so AMP technologies are crucial to our services. AMPs load faster than HTML pages, enhancing mobile UX, reducing bounce rates, and increasing on-page session time. So naturally, we're huge fans of AMP as it's an easy way to land in Google's good books.
Responsive Web Design
In order for your business to look professional, your website needs to operate flawlessly on every device. Our responsive web design solutions are modern, effective, and strategically engineered to ensure your website performs consistently, offers better brand engagement, and drives higher conversions.
Web design in Dubai that gives you an edge over the competition
Search Engine Optimized
As a business owner in Dubai, you can feel the cut-throat online competitiveness. So does your website have the sophistication to get noticed by search engines? If not, it's time you invested in SEO. We can help your website rank higher in the search engine results pages by implementing every strategy that matters to Google. We'll focus on essential SEO criteria, such as UI/UX, load times, website design, customer engagement metrics, and more.
Easily Customizable
In order to become a memorable brand, you need to have a unique online identity. And that means creating a customized website design that enables you to stand out in the crowd.  We can personalize website details to ensure they align with your brand personality, from images to color to layout and beyond. We offer customized creative web designs tailored for your business to help strengthen your brand reputation and marketing campaigns.
Improve Brand Identity
In less than a second, users judge your brand based on its web design, significantly impacting the bottom line.  We know just how to make that first second count.  Our innovative design experts understand the importance of building and maintaining an impeccable brand presence. We consider current trends and competitors to ensure your brand identity remains unique and memorable. But our brand identity services don't stop here. We consistently contribute to the improvement of your brand image and value.
Super User Experience
We know that web design and UX go hand in hand. Our design and development team focuses on creating sites with a clean visual layout and clear organizational structure. This not only encourages first-time visitors to explore your website but also persuades existing customers to return for repeat transactions. By offering a seamless UX, you can drive more conversions and improve your bottom line. So yes, designing for user experience should be a vital part of your marketing strategy.
Web Design Features & Details
A lot of hard work and creativity go into designing your website in Dubai. We work on various elements to make it visually appealing and easy-to-use, such as layout, navigation, graphic elements, UI, UX, and more. But besides this, we also merge brand guidelines and your aesthetic preferences with finesse. After all, we want to help build a flawless online brand identity so you can reach your full potential. Here's what we pay attention to: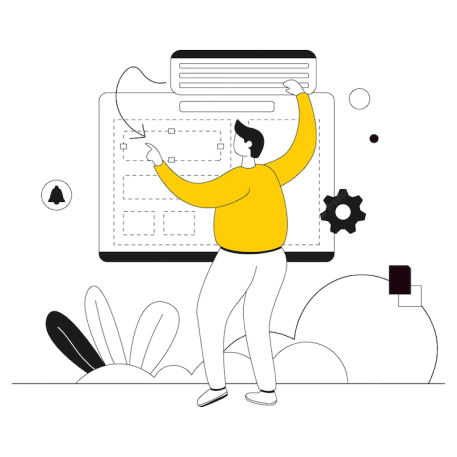 User Interface (UI)
UI design focuses on the appearance of a web page and how users will interact with a site. By improving UI, we can enhance UX. Our UI designers ensure all site elements work smoothly and look visually appealing so users can access and navigate your site easily.
User Experience (UX)
UX remains at the center of our design process. It ensures your website is user-friendly and usable. We strive to provide your users with a great online experience by focusing on essential elements such as intuitive navigation, seamless transactions, effortless access to information, etc.
Original Copy & Content
Content and web design go hand in hand. Our job is to ensure your visitors will consume content and engage with your site by creating and positioning superbly curated content (text, audio, and video) in the right places.
Unique Graphic Design
Graphical design components such as logo, icons, navigational keys, images, etc., can refine your web page and improve the feel of your site. We follow your brand guidelines to create one-of-a-kind graphic designs to ensure your website looks unique and professional.
Structure & Framework
Your site's framework and page layout can make or break your brand. They can encourage or discourage users from interacting with your website.  We take website structural design seriously. Every graphical element (content, navigational keys, images, etc.) is meticulously positioned to create a flawless brand image.
Appropriate Fonts
Fonts should evoke emotions and showcase your brand identity. After all, fonts can influence site usability, content readability, and the overall 'feel' of the business. We consider your requirements and branding guidelines to find the perfect font type and size for your brand.
Colour Themes & White Space
Colours and fonts are crucial elements of brand identity. We ensure your colour theme is incorporated with adequate white spaces. It helps pull different page elements together beautifully, amp up your website style, and improve your brand image.
Frequently Asked Questions
We have a whole list of reasons why you should choose us.
Cactimedia is a full-service digital agency based in Dubai with nearly 20 years of experience in the field. We've helped numerous leading corporate and retail brands reach their full online potential.
Our expert design and development team has an eye for aesthetic details and a host of technical skills to drive your brand to greater heights. At Cactimedia, you'll receive creative, strategic, and unique solutions to help your business dominate the digital space. We develop beautiful and original customized designs with special attention to strategic messaging, layout, consistency, typography, UI/UX, and more.
Web design is a crucial aspect of your online reputation. It can make or break your brand. Users will only engage and interact with a site that is visually appealing, responsive, and easy to use. To ensure your brand makes a powerful first impression and drives more customers to your business, you need to hire a web design specialist with the skill, creativity, and tools to design the right website for your brand.
Even though freelancers are cheaper, hiring a web design agency is a better option. A web design agency provides a variety of services to oversee the entire design process. We have a dedicated team in one spot, including a web strategist, project manager, web designer, and web developer. Plus, we offer support even after the project is complete.
Your success depends upon the web design agency you hire. So, of course, you want to partner with only the best. But how can you find the right one from the hundreds of thousands of design companies based in Dubai?
Filter your list using the following criteria:
• How many years of experience do they have
• What tools will they use to develop your website
• Evaluate previous clients
• Review their portfolio
• Read testimonials and online reviews
• Assess their support team
• Do they offer flexible packages
Responsive design is a modern web design approach that enables web pages to detect the size of a visitor's screen and adjust the layout of a website accordingly. This feature improves the look and feel of your website for large and small and large. However, it's a key aspect of mobile-friendly sites, helping to increase the number of visitors and rankings in SERPs.
Depending upon the size and needs of your business, it can take 1 – 4 months to design a customized professional website. We take the design process seriously and do not believe in rushing our clients simply to complete more projects and earn more money. Your business is as important to us as ours is and we believe in building long-term relationships with all our clients. So we work meticulously to ensure every aspect of your site is spot-on, including graphical elements, layout, colour schemes, typography, etc.
We have crafted our web design and web development process to perfection so that all our clients receive a customized digital marketing strategy, whether its web design, SEO, or any other service. Our tried-and-tested process truly works and consistently delivers impressive results. So how do we keep our clients happy?
We listen to everything our clients have to say. Initial consultations are crucial in helping us understand your project and the speed and direction you want things to go in.
We design and develop solutions specifically for your brand. Of course, your guidelines are an essential part of the creative process.
We test and launch strategies to ensure everything works and looks as promised. And we're here for you even after your project is complete.
At Cactimedia, we can help redesign your site. We can audit the website and discuss what changes you feel are required. Once we understand your requirements, we'll begin the redesign process using updated, optimized designs. You get to see the design before it's finished so that we can make changes before getting into the development process. After all, we want your revamped site to improve user UX, gain more visibility in SERPs, and drive more traffic to your business.
It's almost impossible to quote a number to answer this question. We can offer an estimate only after assessing your needs. The cost of your website design depends on your business's needs. For example, a customized site which requires several different components generally costs more. Also, keep in mind that we have flexible packages to ensure our services fit any size budget.
Of course, we can help. We understand the importance of site maintenance. It makes a site more reliable, helping to invite visitors and boost traffic.
We provide on-going support to ensure your website functions properly and remains up to date. That means checking your site for any issues and correcting them regularly.
Yes. All websites are designed and developed keeping various SEO factors in mind. Our design professionals work alongside SEO specialists to ensure web designs are not only user-friendly but also search engine friendly. We pay close attention to all web page elements, from spacing to images to graphics, so your site ranks well in search engine results.
Use our one of a kind web design services in Dubai to grow your digital presence