The world has become increasingly digital, smart and small over the past few years, and Ecommerce websites have taken the world by storm.
The increasing success of these websites are due to the fact that people love to have the option to order anything they want from anywhere at the tap of a button or the click of a mouse. With the influx of handheld devices, the number of people who become consumers of these Ecommerce websites have increased exponentially. We understand the importance of Ecommerce website design and development in Dubai, and we have been in this space for the longest period of time. Ecommerce website development has special nuances that are very different from everyday website design.
Most of the time, when you ask an Ecommerce website design company in Dubai to develop a custom site, they will come up with a design that is too cluttered. There needs to be a finesse to Ecommerce website design so that the end user finds it extremely easy to shop for the product that they desire. With the use of proper schema markup, it is possible to bring Ecommerce websites to the top of the search engine where people can easily click on the product and add them to the cart for purchase. Also, the level of security should be high for Ecommerce sites, since there will be payment gateways where the user will enter personal details.
When it comes to Ecommerce design Dubai, Cactimedia can develop a complex website that has many layers to it, but works in a simple and effective way so that the user finds it incredibly easy to navigate. We talk to our clients regarding their ideas and use inventive solutions to create the perfect Ecommerce website that makes it easy for customers to shop from and vendors to add products to as well. It takes an experienced team of experts to design an Ecommerce website that ticks all the boxes and brings increased revenue for the client. Once we understand exactly what kind of Ecommerce site you require, we will quickly develop one so that all your demands are met.
let's create great website together.
We are passionate about our clients and their products let's talk.
Ecommerce Web Design Dubai
It's the era of online shopping. So if you've got something to sell, it's time you added Ecommerce capabilities to your website. And what better place could there be to launch your Ecommerce store than in Dubai, the world's shopping capital?
Cactimedia has the Ecommerce web design services you need right here in Dubai.
Our developers have the experience and expertise to build a robust foundation for your Ecommerce website and drive your business towards greater success. We can design, develop, launch, and promote your online store in record time.
We don't believe in offering one-size-fits-all Ecommerce solutions because we know every business requires a customized website that caters to their business objectives. We do comprehensive research to design an Ecommerce solution suitable for business growth.
We design user-friendly, fully functional, and secure websites to ensure customers engage and interact with them at every touchpoint. We utilize the latest technology to maximize website functionality – and your profitability.
Our Ecommerce web developers are experts in various Ecommerce platforms, including  Shopify, WooCommerce, BigCommerce, Magento, etc. We can suggest the perfect one for your business.
We also offer additional digital solutions to help boost your sales and revenue, such as adding Ecommerce capabilities to an existing website or creating a customized mobile app for your brick-and-mortar store. No matter what you decide on doing, it's time you took the initiative to grow your business. Connect with your customers on the digital landscape and offer an unforgettable online shopping experience.
Ecommerce Web Development in Dubai
Ecommerce Web Development Platforms That Just Click
Let's set your Ecommerce store up for long-term success. That begins with building your online store on the right Ecommerce platform. It should help your business run efficiently and allow customers to engage with your brand effortlessly. Our Ecommerce website development experts can help you choose the perfect one. Learn more about your Ecommerce platform options below.
WordPress is one of the most popular content management systems that powers websites worldwide. Its innate characteristics such as user-friendly UX, customization capabilities, mobile-ready responsive designs, and SEO friendliness make it the top choice of developers.
We're no different! The developers at Cactimedia know how to tap into WordPress's potential. We build versatile, easy-to-use WordPress Ecommerce websites that allow your brand to outperform others. Our design and development strategies can spearhead your online business into the competitive global marketplace.
If you already have a WordPress website and want to add Ecommerce capabilities to it, WooCommerce is the perfect solution. Our expert developers can create a custom WooCommerce website with unique and attractive designs. We provide additional WooCommerce services, including plugin development, theme customization, maintenance, and support. Our goal is to focus on criteria that ensure the growth of your online business using WooCommerce and help your brand stand out in the crowd.
More than two million stores have been built on Shopify, so it's an excellent option for you if you're looking for an Ecommerce platform to get your small business in Dubai up and running quickly.
Shopify is packed with tons of personalized business strategies that help curb the cost of web design and development. It has features to help with inventory management, accounting, business reporting, social media promotion, and more. And the best part – there are no hidden fees.
Our Ecommerce website developers are Shopify experts at building a customized site for you using the platform's advanced functionalities.
Drupal is an open-source CMS platform that's a popular choice among large businesses which receive a lot of traffic. It's also suitable for websites with large resource libraries and databases. What's more, Drupal's powerful extensions and features offer great flexibility and customization options, making it one of our favorite Ecommerce development platforms.
We create smart, sophisticated websites with robust capabilities to support the growth of your business. Our web developers are experts at using Drupal's framework to create a user-friendly, robust, and scalable ecommerce website. We ensure your online store is secure, accessible, and works seamlessly on any device.
Magento is among the top choices when it comes to Ecommerce development platforms. It offers a host of features online businesses need to look good and maintain a solid online presence. Magento's transparency, security, and flexibility offer our developers the freedom they need to create a strong foundation for your Ecommerce site. More importantly, Magento's multi-store management capabilities allows you to run and manage multiple online stores from one place.
Our Magento web developers can delve into the platform's customization options to create a highly secure and unique online store that's sure to impress your customers.
BigCommerce is a well-known ecommerce platform packed with countless performance-enhancing functionalities you need to expand your business and fuel growth, including advanced filtering options, mobile-friendliness, secure payment gateways in multiple currencies, etc. The platform provides an intuitive dashboard to help you manage products, orders, and returns.
So yes, BigCommerce is a reliable and powerful choice when choosing an Ecommerce platform for your business. Our Ecommerce website developers know how to optimize the performance of your ecommerce site by leveraging BigCommers's capabilities. We guarantee to make your online store stand out in the crowd and deliver exactly what customers demand.
OsCommerce is a powerful development platform that can take your Ecommerce business to the next level. It offers a wide range of features and functionalities to make online management store and product management a breeze.
OsCommerce supports multiple secure and reliable payment gateways with multi-currency support, such as PayPal Authorise.net, Sage Pay, etc. This encourages more customers to transact your website, thereby building trust in your brand and growing a loyal customer base. Our web developers can tap into OsCommerce customization capabilities to create a unique, high-performing Ecommerce site that fits the scope of your online business.
Launch Your Ecommerce Store Today
Cement Your Online Selling Presence with an Ecommerce Website Tailor Made for You
Get ready to drive sales and make conversions with a bespoke and customized Ecommerce web design that brings more customers to your website.
Cactimedia's Unique Ecommerce Web Design & Development Solutions
Responsive Ecommerce Web Design
Advancing technology compels us to create and adopt competitive, futuristic Ecommerce solutions. And responsive web design is one of them. Responsive web designs allow websites to adjust content automatically to fit different screen sizes. Our Ecommerce web developers can produce a unified web presence and ensure your website works seamlessly every time, no matter which device your customers are using. A flawless online user experience allows your customers to view products and services with ease. Ultimately, this helps showcase a strong message about your brand – a commitment to stay abreast with the latest trends so that customers receive the best online services.
User Experience Is Given Priority
User experience is crucial for your Ecommerce website. It's the key factor that helps attract and engage visitors from the get-go. Our web developers are experts at UX. That means we know how to make sure your customers don't consider visiting any ecommerce website except yours. What's more, they'll gladly return to your site over and over again. So what aspects of web development do we focus on to ensure your customers receive top-notch UX? Optimal loading speed, intuitive navigation, simple checkout process, responsive design, and up-to-date website are essential factors. We consistently incorporate new techniques, such as chatbot and live chat to enhance customer service as well as UX.
The Right CMS for Flexibility
Content Management Systems are vital components of Ecommerce websites. They provide the flexibility you need to create, edit, and publish content with ease – without the need to write a single line of code. However, to maintain a dynamic online presence, you have to choose the right CMS platform. This is where we can help. Our Ecommerce website development team can pick the perfect CMS for your business and customize its powerful functionalities. We offer CMS consultation, development, implementation, support, and maintenance services. We are proficient in various CMS software, including Shopify, WordPress, Magento, WooCommerce, Drupal, Joomla, etc.
Integrate Existing Applications & Systems
Ecommerce store management is challenging. You need to handle many responsibilities, including product sourcing, order fulfillment, inventory management, planning promotional campaigns, sales and conversion rates optimization, and more. However, you can run your Ecommerce store seamlessly with the right tools. We can help integrate the systems and applications your Ecommerce store needs to stay competitive and profitable. We can add multiple advanced functionalities to your site, such as online payment gateways, shipping and logistics services, CRM, etc. Our developers can create a scalable architecture that supports continuous integration to ensure your digital asset keeps improving.
Be Visible on Search Engines Using Best SEO Practices
With millions of Ecommerce sites on the internet, your online store is a mere needle in a haystack.
However, the proper search engine optimization techniques can significantly improve your organic visibility and online sales. Our Ecommerce SEO professionals can take your SEO campaign to greater heights. We understand the nuances of search engine algorithms that impact Ecommerce store rankings, such as mobile-friendliness, page speed, page experience, site architecture, internal linking, site security, etc. More importantly, we have the experience to generate tangible results across search engines and popular online store platforms, including Shopify, BigCommerce, etc.
Ecommerce is the easiest way to acquire and retain new customers.
Our team at Cactimedia can create an easily navigable website design in Dubai that's sure to boost UX.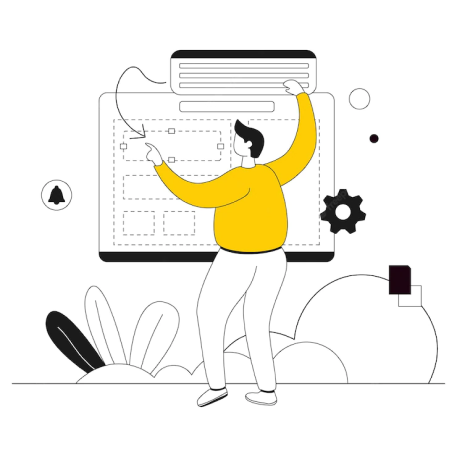 Grow Your Customer Base
The key to business growth is an expanding consumer base. If you have an Ecommerce website, you're in luck. Your Ecommerce site has access to loads of information about your target audience, such as who they are, what their preferences are, and what their behavior patterns are. With the help of detailed analytics tools, you'll be able to identify and target potential customers more effectively. Plus, you can retain existing ones and convert them into loyal customers.
Reach a Global Audience
Your customers are online and they're getting more tech-savvy by the minute. With just one click, they can compare goods and make informed purchasing decisions. So developing an online presence is more crucial than ever for success. Since Ecommerce stores aren't limited by geographical constraints and physical barriers, you have the opportunity to reach audiences anywhere around the world. That means you can interact with a bigger audience base and reel in greater revenue.
Reduce Overall Cost
An Ecommerce store doesn't have the same overhead costs as a brick-and-mortar store. Since it operates online, it requires less labor and resources. Additionally, a lot of business operations are streamlined and automated, such as distribution and supply-chain management. When there are no middlemen, transaction costs are reduced, allowing ROI to improve. But the biggest benefit of decreased overall expenses is that customers don't have to bear the brunt of incurred costs. Products are generally cheaper and you'll receive more customers.
Build a Brand Identity
Your brand is recognized by the persona you build around it. Everything about your business, even interactions between you and your customers, impacts your brand identity. However, with a digital storefront, you have more opportunities to create a better, more robust brand identity. Maintaining a polished and compelling online presence allows you to enhance your business profile and reputation. You can significantly improve brand identity and conversion rates by focussing on UX, speed, security, mobile-friendliness, and responsive design.
Frequently Asked Questions
Customers nowadays expect to be able to shop online, from any location and at any time, without interacting with a sales representative. Since your customers are online, you can interact with them better.
An Ecommerce website is an opportunity for you to improve sales and revenue. Moreover, your Ecommerce website increases brand awareness and expands your market reach.
But that's only the tip of the iceberg. An Ecommerce site helps grow your brand by offering new insights about your customers. With analytics tools, you can analyze your customers and the market to invest in business operations that offer your brand a competitive advantage.
Cactimedia has developed Ecommerce websites for businesses of all shapes and sizes. We have nearly 20 years of experience designing and developing Ecommerce websites that drive better conversion rates. We follow a well-defined, target-oriented development process that drives success. Our competent developers have the skill, talent, and experience to create award-winning Ecommerce sites. We have a list of satisfied clients from around the globe as proof of our successful strategies.
Our developers are experienced in working with many popular Ecommerce platforms, such as Shopify, BigCommerce, WordPress, WooCommerce, Magento, Drupal, OsCommerce, and more. We also develop fully-customizable Ecommerce solutions to accommodate your unique needs.
Every Ecommerce platform has different features and functionalities. So choosing the right platform is the most important step in setting up an Ecommerce store.
Before we can suggest the best platform for your needs, our dev team takes the time to study your business carefully. They will guide you through the entire process and keep you informed about the options that can help establish a more competitive Ecommerce store.
An excellent Ecommerce website must be visually appealing, easy to navigate, fast, and secure. Since your website's design and content reflect the credibility of your business, every aspect of your site needs to be spot on.
We know that navigational ease is the secret that keeps visitors engaged on your site longer, significantly increasing the chances of conversions. But our prime focus is on a seamless UI/UX experience. Users should be able to use your site effortlessly, whether to browse your products, add products to the cart, or complete a purchase.
Yes! We understand that every business is unique. And your Ecommerce site needs to reflect your brand's personality. At Cactimedia, all custom Ecommerce web designs are creative and professional. Our services entail creating a one-of-a-kind website that aligns with your brand guidelines and functionality needs.
Yes, of course. Security is crucial for Ecommerce businesses, especially in building trust among your consumers. Regardless of which platform we use to develop your site, we use SSL encryption to ensure all sensitive information that passes through it is encrypted.
The price of an Ecommerce website can vary from project to project. The cost of a customized Ecommerce solution depends upon different variables, such as the size of the site, design specifications, the different functionalities it requires, your marketing needs, etc. Please contact one of our company representatives today to receive a price estimate for your project.
As with the cost of development, the time it takes to design and develop your project depends upon variables such as website size, customization specifications, design requirements, functionality requirements, etc. Let's discuss the details of your Ecommerce project so we can offer a realistic dev timeline.
Use our one of a kind web design services in Dubai to grow your digital presence